A weekend with friends and cool activities
If you will be organizing a friends weekend, you want to stay in a large bungalow with lots of activities of course. We have it all! You and your friends can really have a break in our large holiday homes. Relaxing, eating and drinking together, gain new experiences – that's what really matters.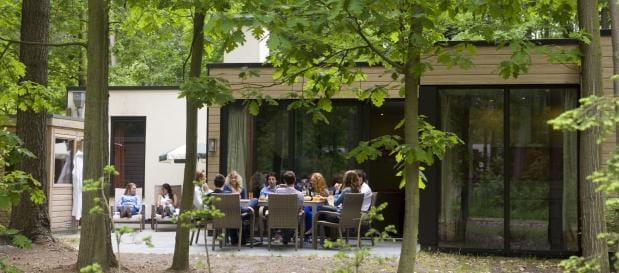 A large bungalow with lots of privacy
During your friends weekend, you obviously want to enjoy each other's company. In our cottages, you have all the space you need. Inside the cozy living room with its own fireplace and outside in your own terraced garden.


Staying in one of the large family holiday homes for up to 18 people, with enough bedrooms and bathrooms.
Book 2 interconnected, luxury Eden cottages, for up to 16 people. You will have plenty of space!
Book multiple cottages with a Preferred location: everyone has their own little spot, yet still close to each other.
Turn it into a cosy gourmet or stone grill evening in your cottage with the Table Cooking Arrangement.
Don't take too much preparing and doing grocery shopping: just order our Cottage Services, like the towels or grocery package.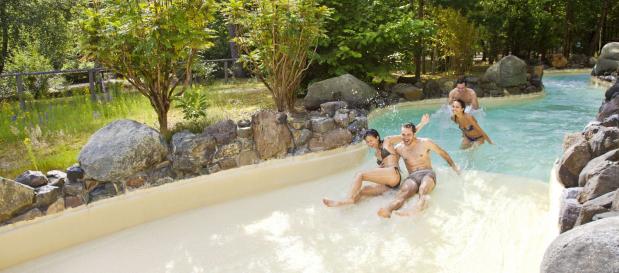 An active holiday with your friends
Have fun together during a weekend away with your friends, relaxing and enjoying new experiences. That's what really matters. And with us, you have all the opportunity to do that!


Splash into the water in the Aqua Mundo and follow each other down the wild water rapids.

Relax at the dinner table in our restaurants, enjoy the live entertainment and challenge each other in the House of Games.

Have yourself locked up in the Escape Room and work together on your escape.

Especially for fanatics: who will win the game of paintball or the laser games?

Try water sports like water skiing and fly boarding. And you will have fun on the banana!

Encourage each other on the climbing course, the High Adventure Experience or on the climbing walls.

And don't forget to relax with our spa treatments, like saunas and massages.
422 available accommodations
Sort by:
Sort by:
Sort by:
Sort by:
Popularity
Popularity
Price ascending
Descending price
Number of bedroom
*Book at least 2 months in advance and receive a 20% discount for families or groups with at least one child under 13 or one person 55 years of age or older. The Family or 55+ discount is not valid during school vacations and extended weekends.

On bookings for Villages Nature® Paris, you receive a maximum 10% Family or 55+ Discount, if you are travelling in the company of someone over 55 or with at least one child under 6. The booking must be made at least 60 days before arrival.
Premium Lakeside cottage
Private covered terrace with garden furniture and panoramic view overlooking the lake
American style kitchen fully equipped with dishwasher and NESCAFÉ Dolce Gusto
Bathroom with whirpool bath
Made-up-beds service
Displaying parks closest to your location first