* The prices shown include tourist taxes and other fees.
A perfect blend of rugged action and lovely peace
Follow the winding roads around the park and discover charming villages and rolling pine forests. Or head inside to discover the brand new Action Factory with the coolest indoor activities such as Caving, Lazer Labyrinth and a BALUBA indoor play paradise.
15 km from skislope Baraque de Fraiture
15 km from waterfalls and Plopsa Coo
26 km from Malmedy
27 km from Brewery La Chouffe
33 km from La Roche en Ardenne
43 km from Bastogne War Museum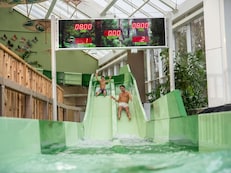 Perfect for

Families with children and friends

Unique Activities

Indoor play area Action Factory with play world BALUBA

Aqua Mundo

2 Waterslides including a double slide

Accommodation tip

Cottages for up to 18 persons

Surroundings

Hilly and forested landscape