Les Ardennes
Belgium, Ardennes, Vielsalm
Park map
Les Ardennes - Restaurants & Shops
Choose from 3 restaurants under the palm trees. Will it be a buffet, a bite and drink in the Grand Café or a snack in the Aqua Mundo? We also have a supermarket, for all your shopping and you can order pizza. Or have your breakfast or Table Cooking package delivered!
Restaurants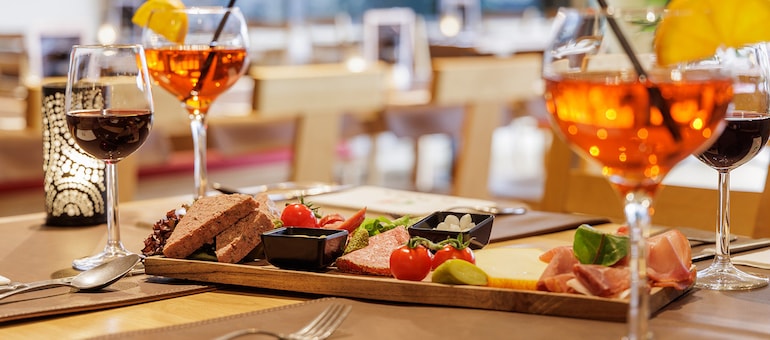 La Trattoria
La Trattoria, located in the brand-new Action Factory, opens its doors to you! Come and enjoy a delicious Italian buffet. The Trattoria has a window to keep an eye on your children playing in the Action Factory and a terrace from which you can enjoy a magnificent view of the domain and the small village of Vielsalm.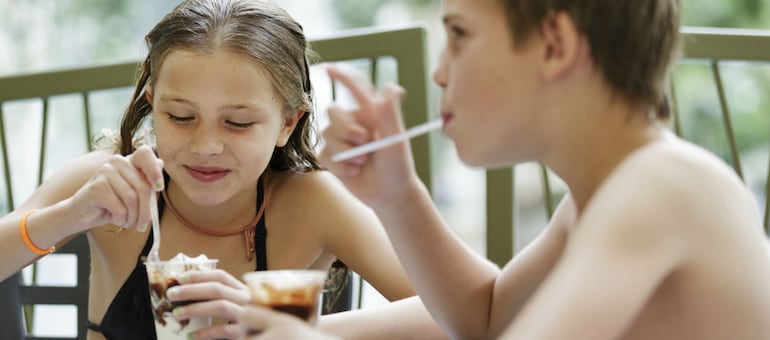 Aqua Café
Looking for a snack break but still want to enjoy some watery fun? The Aqua Café offers a selection of tasty burgers, delicious snacks and lots, lots more. Enjoy a smooth ice cream while you gaze out at the waterscape's magnificent view.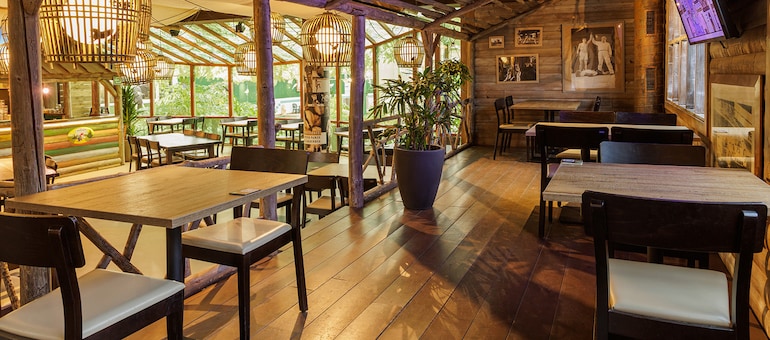 Sports Café
Come and have a drink and a snack in the Sports Café where you can keep a caring eye on the Aqua Mundo. The Sports Café is friendly and comfortable and offers you an interior themed around tropcial and sports with a relaxing terrace where you can enjoy a selection of cocktails prepared by us. All the big sports events are played there.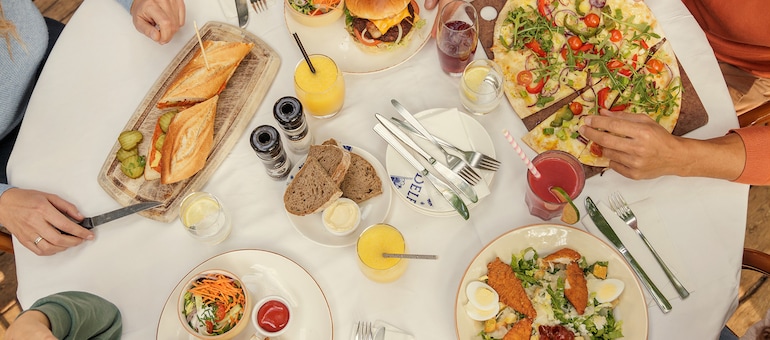 Grand Café
A good cup of coffee or a glass of beer with a bitterbal (croquette) and a newspaper. Whether you are waiting for friends or family, time is not important at Grand Café because we always treat you like you are on holiday. Feel like enjoying a snack? You can choose from a variety of sandwiches, salads and hot dishes available on our menu.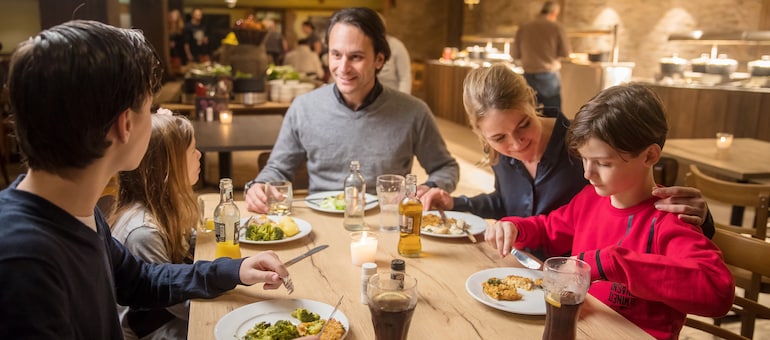 Tasty
Day in, day out our chefs present fantastic and elaborate All You Can Eat buffets that include a range of specialties and dishes. For their pudding, children can even serve up their own ice cream! The buffet restaurant also serves a full breakfast: freshly-baked rolls, fruit, fresh fruit juices and dairy produce. The best way to start your day!
Cottage Delivery Service
Breakfast Delivery
Want to enjoy a breakfast without having to leave your accommodation? Snuggle down and order a complete Lazy Breakfast with bread, sweet and savoury toppings, eggs and orange juice. Can be booked along with your accommodation or ordered separately at the supermarket.
Pizza Takeaway
Que diriez-vous d'un dîner pizza confortable à votre chalet? Nous offrons une large gamme de pizzas, de Margherita à la viande épicée, ou une salade de pâtes savoureux.
Table-Top Cooking
Fancy a meal with family or friends in your cottage? Just order a pizza or pierrade grill and have it delivered to your doorstep!
Supermarket
Supermarket
Food shopping for the evening meal, bread and pasteries, a new bikini or fun toys as holiday gift: you'll find it all under one roof, at the Shopping Center. With long opening hours, every day of the week.