Extra benefits for loyal guests
Guests who visit our parks regularly benefit from attractive, exclusive special offers. We call this our Friends programme. You automatically become a Friend if you book at least three Holidays at one of our parks within 36 months. You will enjoy all the benefits as long as you remain a Friend. It applies to all Center Parcs and in all countries (except for the UK). Friends benefits can be enjoyed on top of Family Discount, 55+ Discount and Early Bird Discount. When you book with Early Bird Discount your will benefit from our FREE Activities Gift (€30)! That's a good deal!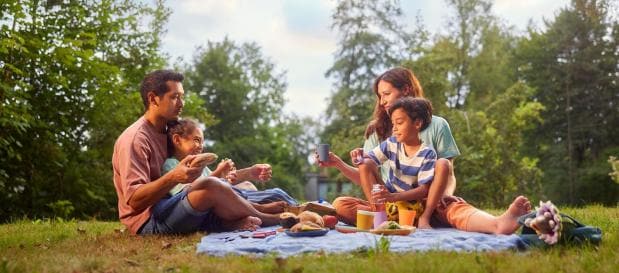 Benefits for Center Parcs Friends
If you have booked three holidays with us within 36 months, you can enjoy numerous benefits when you book your third Holiday.
Early Check-in*: Friends can check in from 13:00 onwards for a relaxed start to their Holiday. Please notify us if you wish to make use of this option! You can do so by going back to step 1 after loggin in and selecting the Early Check-in under services. You can also add it in My Center Parcs afterwards.
Free extra children's furniture*: Children's furniture is available as a standard in all cottages for four persons or more. If this is not sufficient we will be happy to provide additional children's furniture at no cost. Other guests pay € 4.95 per item. Follow the same process to reserve it as for the early check-in.
Welcoming surprise: Friends will find a nice welcoming gift in their cottage upon their arrival.
Discounts at our shops**: As a Friend, you will enjoy shopping at the Market Dome more than ever before. Friends discounts apply on a selection of items.
Attractive special offers: Friends often receive a special offer, that matches their Holiday plans.
* If you want to use this extra service you must indicate this in your booking, either via MyCP or during the booking, at least 1 week in advance. This also means that this extra service is not valid for a booking with an arrival within a week. The Early Check-in is not possible for Tree Houses, themed cottages, Wellness cottage (De Eemhof, De Kempervennen) and cottages for 10 people or more.** Not available at Park Bostalsee (DE), Terhills Resort (BE), Villages Nature Paris (FR) and Les Landes de Gascogne (FR).
427 available accommodations
Sort by:
Sort by:
Sort by:
Popularity
Popularity
Price ascending
Descending price
Number of bedroom
*Book at least 2 months in advance and receive a 20% discount for families or groups with at least one child under 13 or one person 55 years of age or older. The Family or 55+ discount is not valid during school vacations and extended weekends.

On bookings for Villages Nature® Paris, you receive a maximum 10% Family or 55+ Discount, if you are travelling in the company of someone over 55 or with at least one child under 6. The booking must be made at least 60 days before arrival.
Premium cottage
Free Wi-Fi
Modern design with a natural outdoor feeling
Close to the shops and activities
Private wooden terrace with garden furniture
From Tue. 5 until Thur. 7 Dec.
VIP cottage
Free Wi-Fi
Refined and luxurious design
Luxury bathroom with whirlpool and massage shower
Private waterside wooden terrace with garden furniture
From Wed. 29 Nov. until Fri. 1 Dec.
Premium Lakeside cottage
Private covered terrace with garden furniture and panoramic view overlooking the lake
American style kitchen fully equipped with dishwasher and NESCAFÉ Dolce Gusto
Bathroom with whirpool bath
Made-up-beds service
From Wed. 22 until Fri. 24 Nov.
VIP Lakeside cottage
Private covered terrace
Panoramic view overlooking the lake
Bathroom with bubble bath
Made-up-beds service
From Mon. 27 until Wed. 29 Nov.
Premium cottage
Equipped kitchen with dishwasher and NESCAFÉ Dolce Gusto
Second TV in one bedroom
Made-up-beds service
Bathroom with bubble bath
From Mon. 6 until Wed. 8 Nov.
VIP Pagode Cottage
Fully equipped kitchen with dishwasher and NESCAFE Dolce Gusto
Private Finnish sauna
Modern, contemporary and spacious cottage with bay windows
Towel package
From Mon. 27 until Wed. 29 Nov.
Exclusive cottage
Elegant and spacious
Living room with fireplace, flatscreen TV
Wellness bathroom with sauna, bubble bath and rainshower
Underfloor heating
From Wed. 15 until Fri. 17 Nov.
Adventure Cottage
An adventurous stay full of exciting discoveries
A themed interior, where every room takes you on a trip around the world
Dedicated (interactive) features that truly give you the feeling of being on an expedition.
From Wed. 8 until Fri. 10 Nov.
Water Front Suite VIP Apartment
Spacious balcony with panoramic view over the Eemmeer lake
Bathroom with a Finnish sauna and a bubble bath
Daily bread delivery service before 9.00 a.m
From Tue. 7 until Thur. 9 Nov.
Premium cottage wheelchair friendly
Equipped kitchen with a dishwasher, filter and French press coffee machine
Second TV in one bedroom
Beds made on arrival
From Mon. 13 until Thur. 16 Nov.
Displaying parks closest to your location first
FAQ
Do you need a quick answer to your questions? Here is a list of Frequently Asked Questions.