New
: You can now
book 2 accommodations at once
! Perfect for bringing all your loved ones together while respecting everyone's desire.
LEARN MORE
+31 10 498 97 54

+31 10 498 97 54

Do you have a question ?

Our staff will be happy to help you

Monday - Friday: 09.00h - 21.00h
Saturday: 09.00h - 17.00h
Sunday: 10.00h - 17.00h

You can also consult our FAQ page
The genesis of Center Parcs
Sporthuis Centrum, where it all began
The history of Center Parcs began with an idea. A simple, yet fundamental idea. The idea of bringing people and nature together. In 1968, Piet Derksen created the world's first nature park with this idea as its standard bearer. To understand the importance of this date, we must go back in time, when Center Parcs was still called Sporthuis Centrum.

In the 1960s, Piet Derksen was already an accomplished businessman. He had developed a chain of sporting goods stores that was unprecedentedly successful. The era of the Sporthuis Centrum was already well underway. Always ahead of his time, it is not clear whether he is ahead of the trends or setting them. His stores were whole buildings with a slender appearance where you could buy your camping gear and book your next vacation. By 1967, he had 22 stores on the shopping streets of the Netherlands' most beautiful cities. It was time to think bigger.
1968 : opening of the first park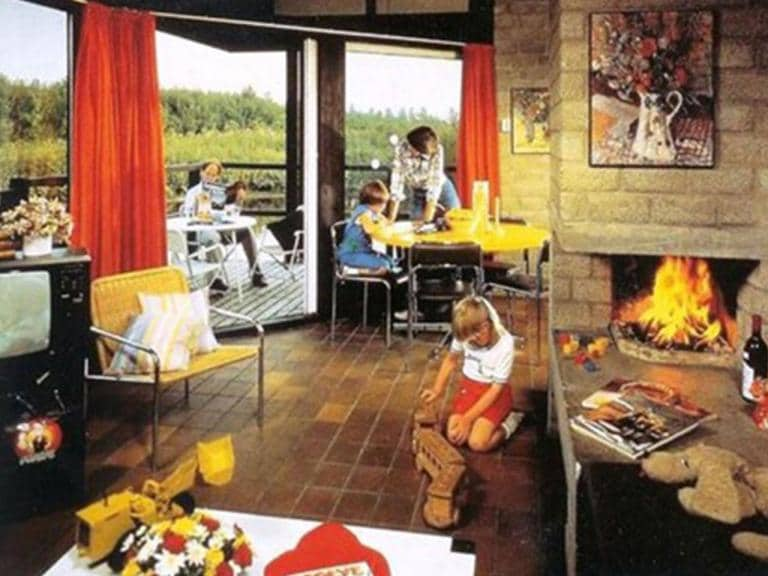 The Dutch have abandoned trees for concrete. They have fled the countryside for small apartments close to all amenities. So on weekends, they dream of escaping and returning to their roots. Piet Derksen was about to offer them this break of simplicity.

In 1966, he found a piece of land in the heart of a forest which immediately seduced him. It was here that he brought his concept to life. On this hilly 25 hectare plot of land, he set up tents and wooden bungalows. Each dwelling offers an unobstructed view of nature, luxurious furnishings and a certain intimacy without being too far from each other. It was 1968 when the first De Lommerbergen Park opened its doors. It was an immediate success, but it was only the beginning of a great adventure. During the next ten years, park openings followed one another.
A non-standard pool
We all have the memory of a municipal swimming pool in mind. The aseptic decoration, the smell of chlorine, the too small bathing caps.

In the Netherlands, where the average temperature is around ten degrees, it remains for many the only solution to enjoy the water. Piet Derksen naturally wanted to implement them in his parks, but "indoor pool" rhymes with everything but "vacation".

The concept had to be completely revised. Under a pile of canvas, he elaborates a first pool with a rounded shape enclosing a small island, the whole maintained at room temperature by heating rays. The architecture seems ordinary, but it is nevertheless a real technical feat.
The unmissable Aqua Mundo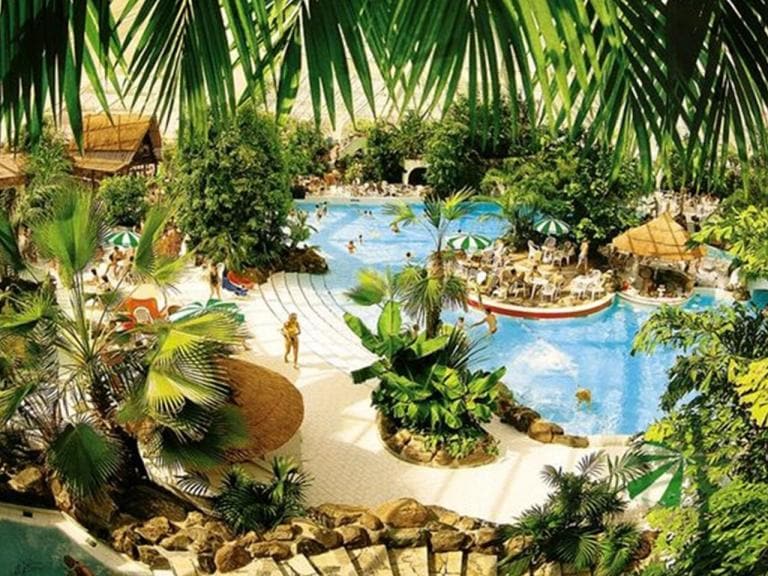 The magic will work, once again. Over the years and with the evolution of technology, the pools, now as famous as the parks themselves, have taken on new attributes. Sheltered by a hard structure to limit heat loss, there is a wave pool, slides and pools of varying depths.

In the 1970s, nature was invited into these vast aquatic worlds. Piet Derksen himself chose the plants and trees that were to take up residence there, one by one. With the right temperature and humidity, the whole becomes a balanced ecosystem where tropical vegetation flourishes in all tranquility.

From then on, no matter the season, there is no need to travel the world to live an extraordinary vacation with your loved ones. These unique pools will soon have a name: Aqua Mundo.
A Dutch pleasure that has become European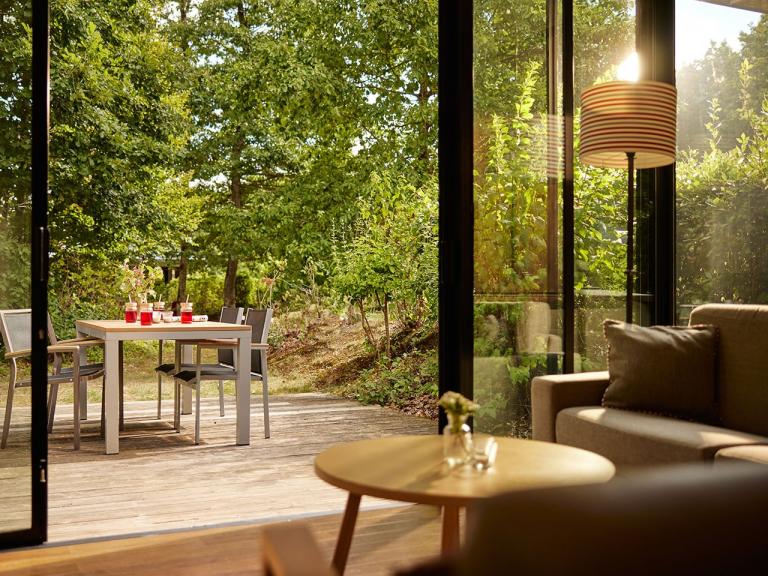 To get to a park, you pass a few hamlets, often crossing fields, sometimes a forest. As soon as they arrive, visitors are struck by the surrounding nature. On average, only 10% of the park is developed, the rest is left free to the fauna and flora to develop. It is not uncommon to come across a deer or to see a hare scurrying across the terrace.

In 1986, the Sporthuis Centrum changed its name to Center Parcs. This transition accompanied Piet Derksen's irrepressible desire to conquer Europe.

In 1981, a first park had opened in Belgium, but Piet wanted to go further. Thus, the Bois-Francs park opened in France in 1988, followed by the German park Bispingen in 1995.

Each time, the sites are carefully chosen. The location dedicated to the cottages must be optimally integrated into their natural environment and encroach as little as possible on the exceptional landscape. In these green settings, infrastructure, people and nature live together in harmony.
Center Parcs has marked a whole generation
Center Parcs has marked an entire generation. Some learned to swim there, others to ride a bike. We cherish these memories like a Proust's madeleine. A laugh, a fall, a dinner on the terrace, a fire that warms a winter evening. We went there with our parents, so we take our children there. Always looking for that simple happiness of being surrounded by the people you love.
In 2023, a page is turned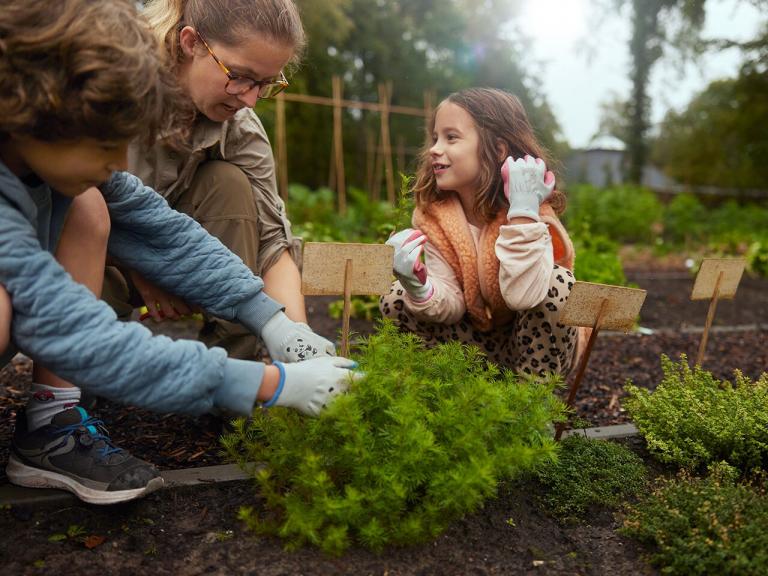 In 2023, a page will be turned. A new chapter begins. A chapter that began a few years ago. The cottages are being renewed and modernized, new experiences around nature are being created and a park is about to open in Denmark.

The brand is also getting ready to take on a new identity, more inspired, more colorful, more refined. Year after year, we have tried to put people at the heart of our projects, to offer experiences that correspond to your desires.

We will never stop evolving and changing. Only one idea will remain. A founding idea. The one of Piet Derksen. The idea of bringing together people and nature.