Terhills Resort: A luxurious vacation in the heart of nature
Climb up a hill in Belgian Limburg, and you have a view over the beautiful nature of De Hoge Kempen National Park. Exceptional, when you consider that the hill is one of the old slag heaps of the mine of Eisden and Lanklaar. What used to be part of the grey desolation of coal mining, now accommodates the beautiful green Terhills Resort: a small-scale premium park that will open mid-2021, close to Maasmechelen (B). From December 2020, you can book your stay in a luxury cottage already!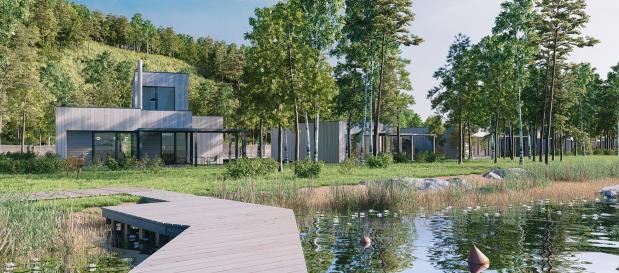 Detached waterfront cottages
Sustainably built, sleek and stylishly decorated. Lots of space, and then there is that view over the water...


The design of all VIP and Exclusive cottages is inspired by the four elements, with lots of natural materials.
The interior spills over to the outside, to a terrace by the water with outdoor furniture, a barbecue, and sometimes even a private jetty; ideal for a rental boat!
Your cottage has been taken care of down to the last detail, including high quality bath and bed linen and a welcome gift.
The Exclusive cottages also have an outdoor sauna, outdoor shower, luxury lounge set, terrace heater, luxury barbecue and extra services such as bathrobes and slippers.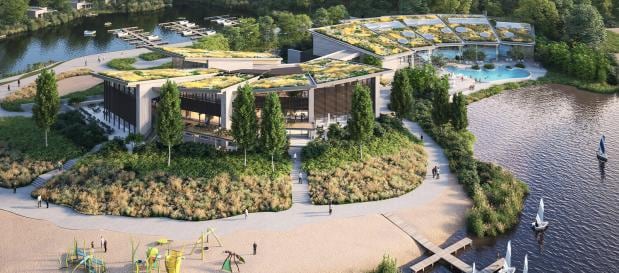 Enjoy nature together
You come to Terhills Resort to enjoy peace, well-being and each other. Obviously in style.


The Country Club is the heart of the park: in restaurant you'll dine with a fantastic view over the water, indoor playground Kids Play is completely nature-themed, and the kids will have fun in the Kids Club, while you enjoy drinks in the lounge.
You can take a quick dip inside or outside in the Aqua Garden pool, and the little ones can splash around in the children's pool.
rent a small boat in the harbour to explore the lake and the forest rivers.
Have fun with Adventure Golf, the Kids Farm and on the Outdoor fitness trail.
Plenty of family nature activities (Family Rangers, Secrets of Nature Show), workouts such as yoga, supping and bootcamps, and workshops to learn, make or discover something new together such as sailing, baking bread, crafting, raft building, nature hiking and animal spotting.
Shopping, sports and relaxation
Terhills Resort is located on the edge of a beautiful nature reserve, close to shopping heavens. Sports and relaxation are within walking distance. It doesn't get any better than this.
De Hoge Kempen, right next to the park, is the only National Park in Belgium: 6000 ha for walking and cycling through moors, hills and sandy plains.
The most beautiful walking routes start directly at the entrance of the National Park – ideal for avid hikers!
Elaisa Wellness is a super-de-luxe wellness centre where all world cultures are represented, from Maya sauna to hammam and yoga shala.
In Terhills Cablepark (with courses of 120 m and 757 m!) you can water ski, wakeboard and enjoy yourself on the Aquapark obstacle course. You can catch your breath in the beach bar.
Go bargain hunting in the luxurious Maasmechelen Village (B) outlet centre, but don't forget to discover Burgundian Maastricht (NL) and surprising Aachen (D), also locatedare nearby.