Park Hochsauerland
Germany, Nordrhein-Westfalen, Winterberg
Park map
Park Hochsauerland - Restaurants & Shops
Enjoy grills, Italian cuisine, the endless buffet or a quick snack in our 6 restaurants under the palm trees. Do you prefer eating in your cottage? Then do your shopping in our grocery store, or have a pizza or breakfast delivered!
Restaurants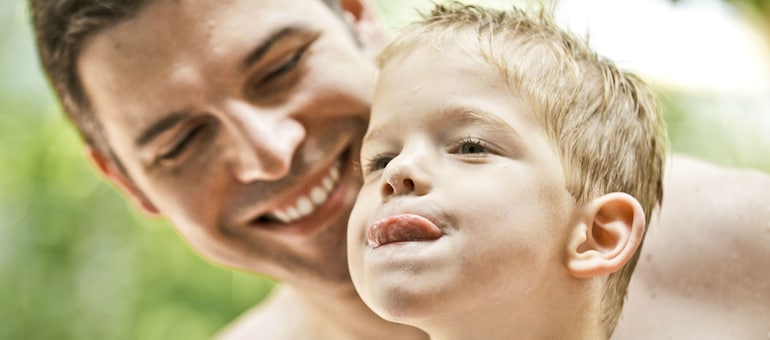 Aqua Café
Fancy a tasty time-out from your splashing about? The Aqua Café offers a range of delicious snacks, hamburgers, crispy salads, and much, much more. Or, why not enjoy a sweet treat like an ice cream or muffin, whilst relaxing in the tropical climate of the Aqua Mundo.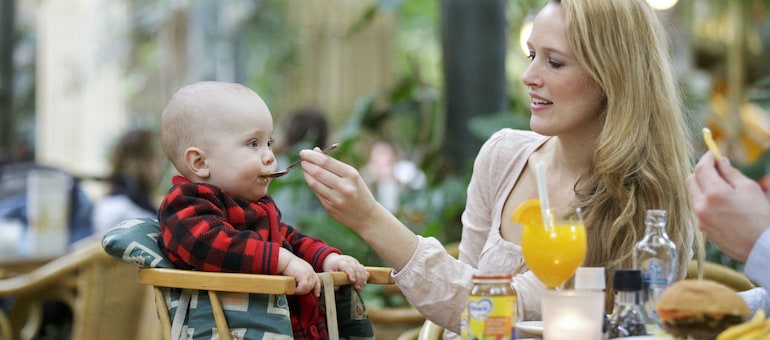 Baby Feeding Facilities
Baby Food Stations are located in all restaurants. Easy to spot, free to use and always close by, the Baby Food Stations provide free jars of baby food, a microwave and a bottle warmer. Enjoy a care-free holiday with your baby!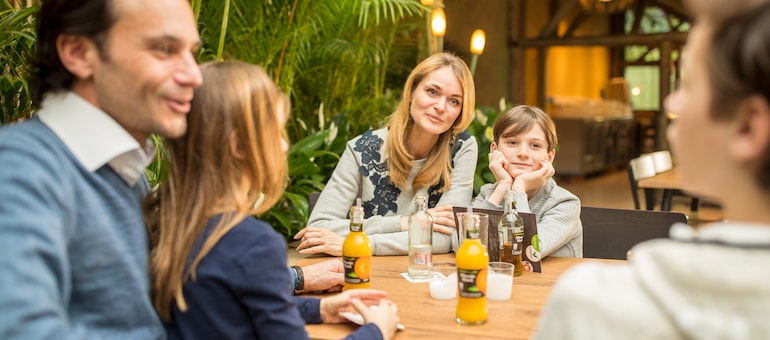 Factory Café
A delicious cup of coffee or a glass of beer with a Currywurst. Reading the paper. Waiting for friends and family to appear. Time is of no matter at the Factory Café. It is your holiday, after all. In the mood for a tasty bite to eat? The menu offers a selection of burgers, hearty salads and a range of hot dishes. In addition, we broadcast all Bundesliga and Champions League matches live.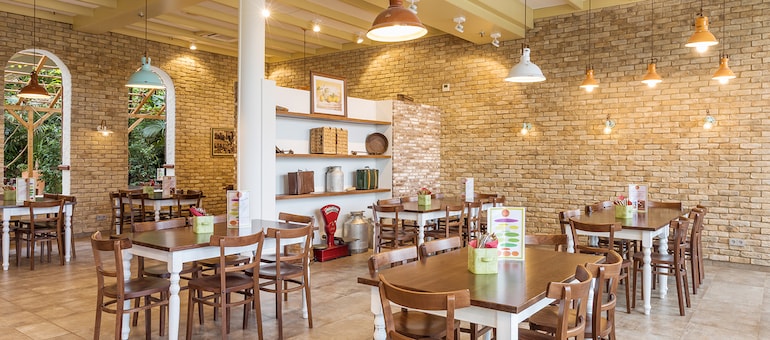 Italian Il Giardino
Under the Market dome, the Italian restaurant Il Giardino welcomes you in a friendly Mediterranean atmosphere. Do not hesitate to dive into the antipasti, look for secundi piatti in a fashionable manner and melt for a delicious Italian dessert.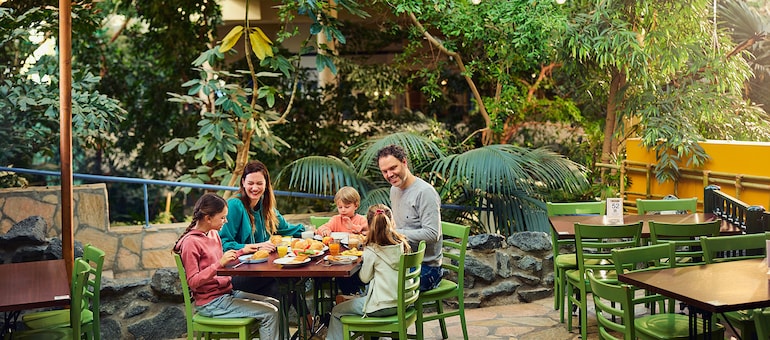 The Market Restaurant
Enjoy mouthwatering buffets for breakfast and dinner where the only difficult thing will be to choose between all the delicious specialties that the Market Restaurant has to offer. From the croissants, eggs and bacon breakfast buffet to an evening buffet where meat-lovers and vegetarians alike will find happiness, kids under 3 years old eat for free as they do in all our restaurants but there is also always a special kids' buffet so everyone gets to eat what they want.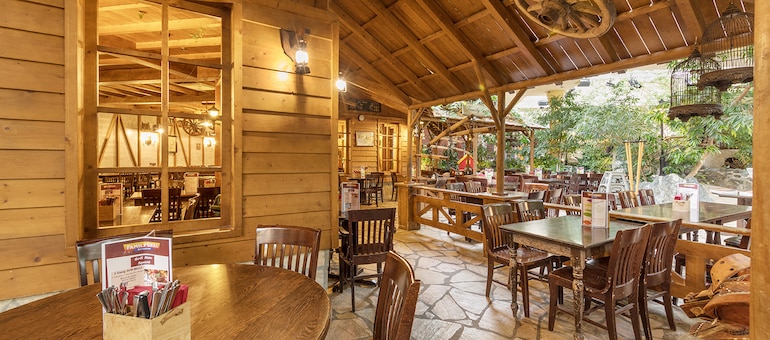 Harding's Family Grill
The Harding's Family Grill has always been the go-to place to find amazingly cooked meat and perfectly seasoned fish. But now with its fresh look, it will mesmerize you even more. Bite through juicy steaks, savour finger-licking good desserts and combine it all to get a great discount!
Cottage Delivery Service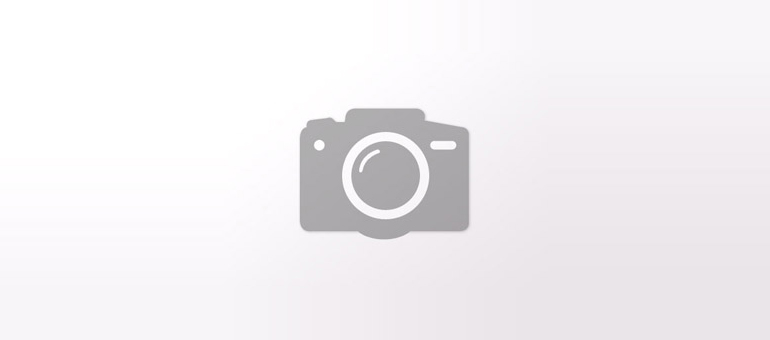 Deli'very Service
Discover our delivery service! Have dishes delivered from our restaurants and catering products or breakfasts for the whole family. Cook together with Fun cooking, choose between pierrades, barbecues or gourmet fondues. All ingredients, including equipment, are delivered to your door.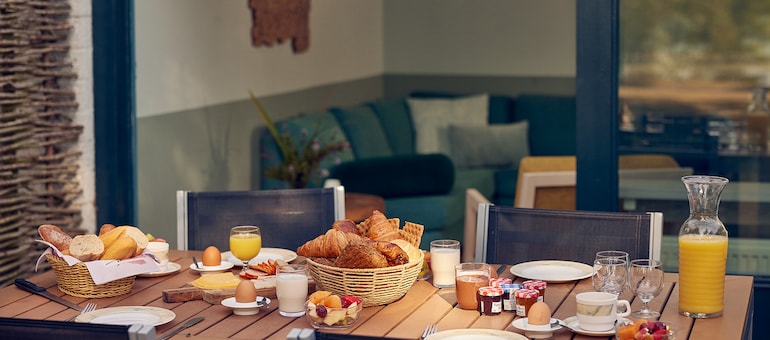 Breakfast Delivery
Want to enjoy a breakfast without having to leave your accommodation? Snuggle down and order a complete Lazy Breakfast with bread, sweet and savoury toppings, eggs and orange juice. Can be booked along with your accommodation or ordered separately at the supermarket.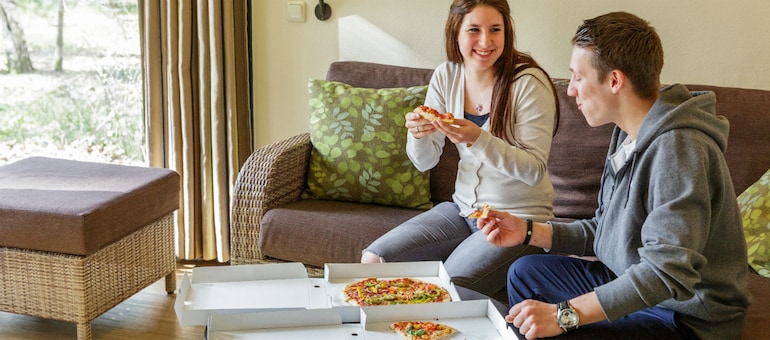 Pizza Takeaway
How about a cozy pizza dinner at your cottage? We offer a wide range of pizzas, from Margherita to Spicy Meat, or a tasty pasta salad.
Table-Top Cooking
Fancy a meal with family or friends in your cottage? Just order a pizza or pierrade grill and have it delivered to your doorstep!
Supermarket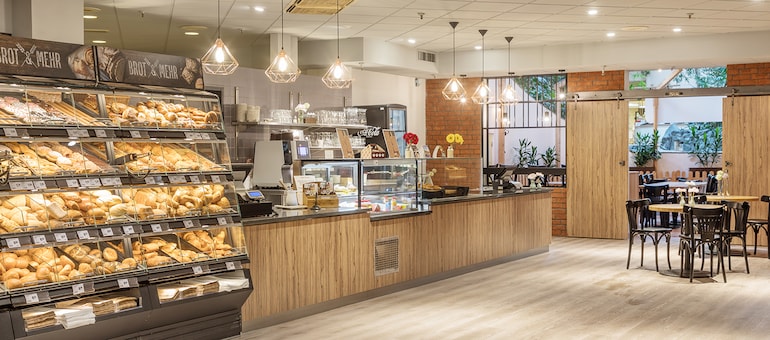 Bakery
Our bakery is now linked to the supermarket for a better shopping experience. As this bakery opens every day, you will find fresh and warm bread and baguettes, traditional croissants and a multitude of delicious pastries. We can also deliver to your cottage when you order a day in advance.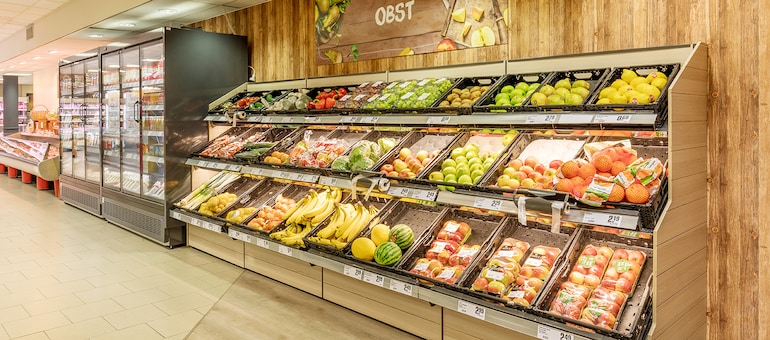 Supermarket
At the supermarket you will find everything you need for your stay: fruits, vegetables, fresh products, meats, canned food, biscuits. All types of food just a few steps from your cottage. Open every day.
Shops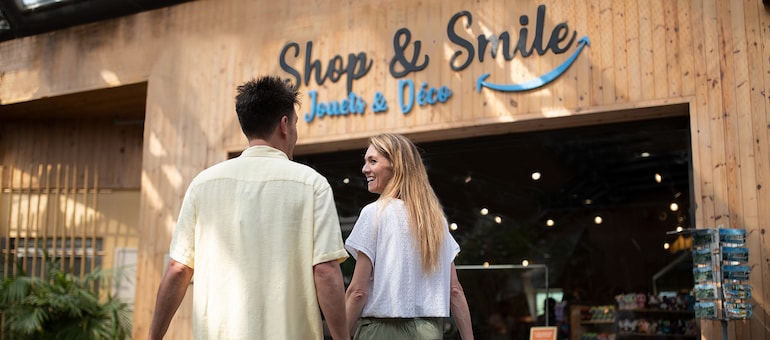 Shop & Smile: Aqua Beauty Fashion
You'll find the latest fashion, all the necessities for plenty of swimming fun and the finest beauty products at Shop & Smile: Aqua, Beauty & Fashion. Choose from a wide range of clothing, accessories, shoes, swimwear, make-up, body care products and bath bombs.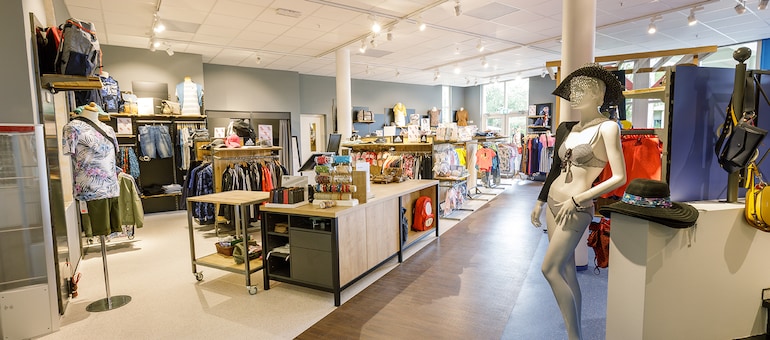 Shop & Smile: Toys & Souvenirs
All kinds of toys and the best home decoration can be found at Shop & Smile: Home & Kids. Choose from a wide range of dolls, toy cars, games, picture frames, candles and souvenirs.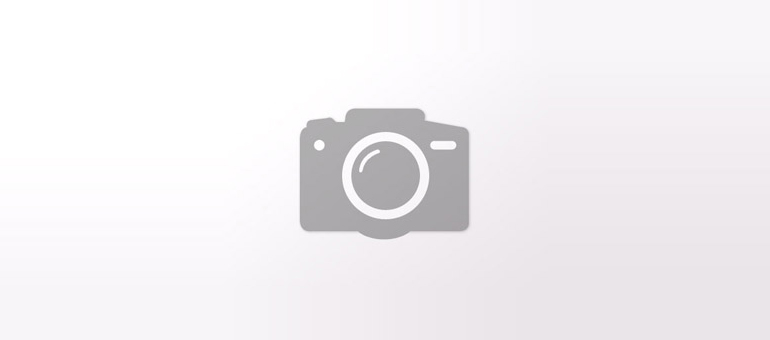 Local Market
A visit to the local market is always pleasant. But ... sometimes the market comes to you! In several parks, you'll find a small weekly market where local traders offer their products. Here you'll find goodies like organic cheese, regional honey, and artisanal candles.