New
: You can now
book 2 accommodations at once
! Perfect for bringing all your loved ones together while respecting everyone's desire.
LEARN MORE
+31 10 498 97 54

+31 10 498 97 54

Do you have a question ?

Our staff will be happy to help you

Monday - Friday: 09.00h - 21.00h
Saturday: 09.00h - 17.00h
Sunday: 10.00h - 17.00h

You can also consult our FAQ page
Park Allgäu
Germany, South Germany, Leutkirch
Park map
Park Allgäu - Restaurants & Shops
Choose between 6 restaurants under the palm trees: South German specialities, an elaborate buffet, Italian specialties, à la carte dining or quick snacks. You can also do your shopping in our supermarket if you prefer your own cooking ... or have something delivered directly to your door! For your comfort, you will also find a launderette at the park.
Restaurants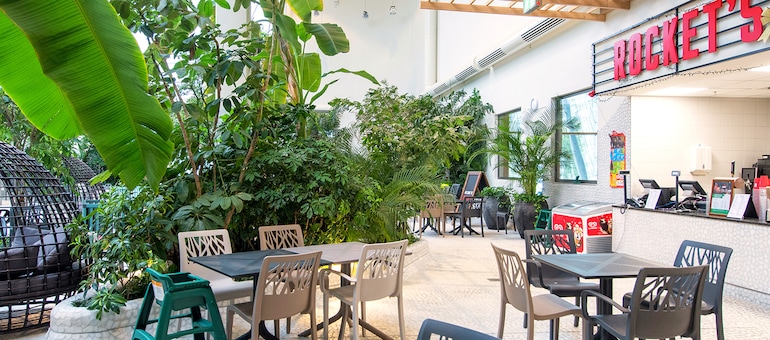 Rocket's on Beach (in the Aqua Mundo)
Fancy a tasty time-out from your splashing about? The Rocket's offers a range of delicious snacks, hamburgers, crispy salads, and much, much more. Or, why not enjoy a sweet treat like an ice cream or muffin, whilst relaxing in the tropical climate of the Aqua Mundo.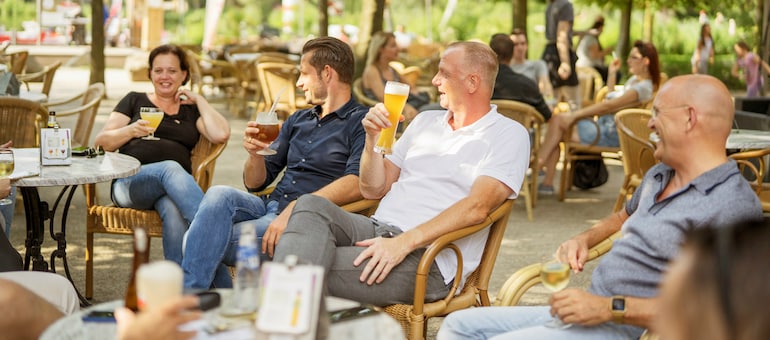 Beer Garden
Cool off with a cold beer or other delicious drinks on the sun terrace right by the lake, while savouring a southern German beer garden atmosphere.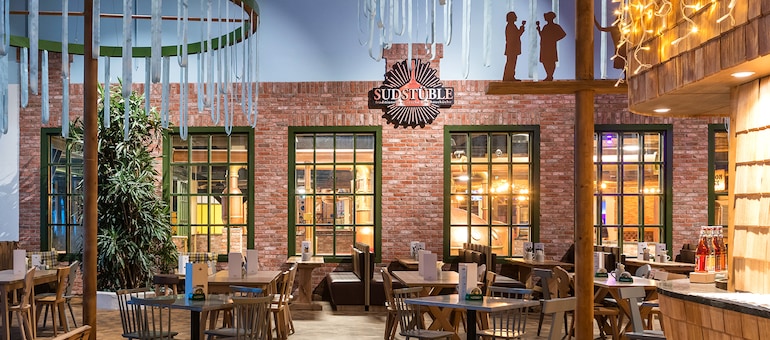 Sudstüble
From classic breads to white sausages - in the rustic Allgäuer Sudstüble you can enjoy delicious regional specialities and rustic German cuisine. With warm meat and fish dishes, vegetarian meals and desserts, there is something for everyone. Enjoy a cosy and pleasant meal!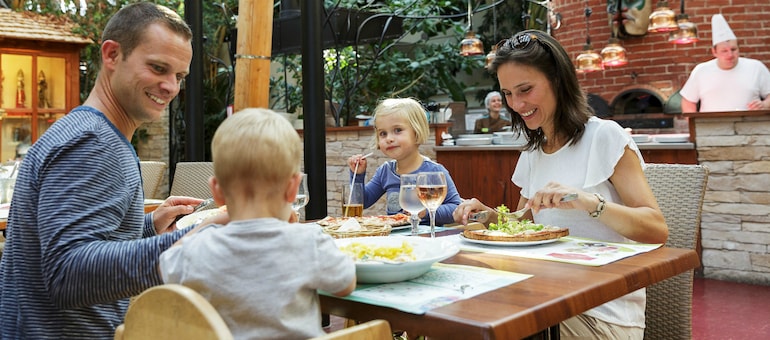 Alpenblick
The Alpenblick is the right place to feast and relax - for lunch, or in the afternoon or evening. All day long we serve tasty snacks like coffee and cake as well as pizza & pasta or meat and fish dishes. Come and enjoy a nice view of the tropical setting or the entertainment stage. Our large drink menu consists of non-alcoholic drinks, beer and wine, as well as a great choice of cocktails, long drinks & spirits!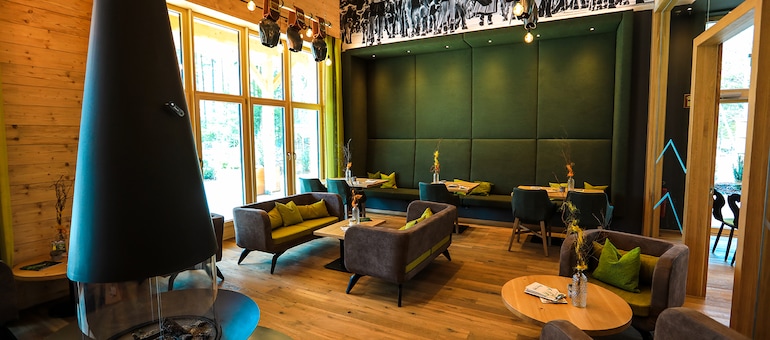 Auszeid Hüttn
In between your treatments at the Spa & Country Club, do you feel the need for a healthy refreshment? In a cozy hut atmosphere, you can enjoy the lightness of being at Auszeid Hüttn with a vital variety of fresh ingredients. The abundant filled Allgäu Seele and the daily soup complement the snack offer.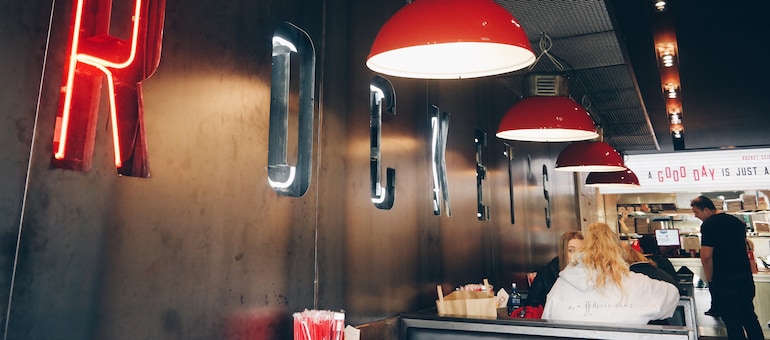 Rocket's
Rocket's is all about handmade hamburgers, tasty curly fries, handmade milkshakes and buttermilk chicken, all freshly made in an open kitchen. The hamburgers are prepared exclusively with selected pieces of freshly ground, hormone-free Irish beef.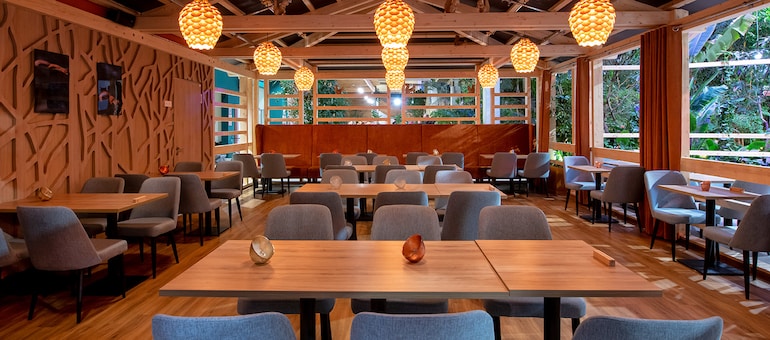 Oachkatzl
Would you like to dine in style during your holiday? Maybe even for a special occasion? The Oachkatzl (Bavarian for "squirrel") pampers your palate with upscale regional cuisine. Enjoy cold and warm starters, meat and fish dishes, main vegetarian dishes and exquisite wines. You don't want to miss our special cheese fondue!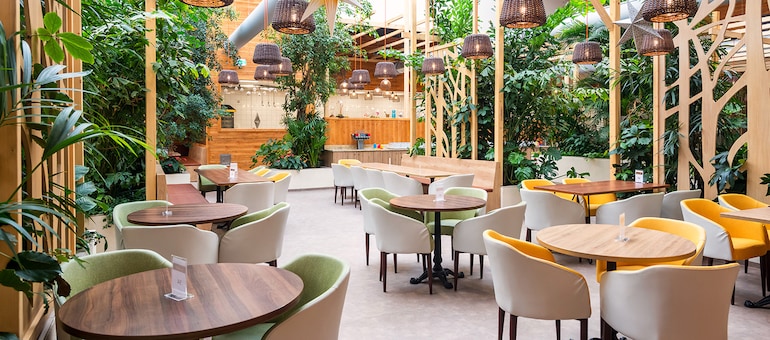 Market Restaurant
Day in, day out, our chefs prepare fantastic and elaborate All You Can Eat buffets that include a range of specialties and dishes. After the meal, the children can have fun in the BALUBA play paradise! The buffet restaurant also serves a full breakfast: freshly-baked rolls, fruit, freshly squeezed juices and dairy products. It's the best way to start your day!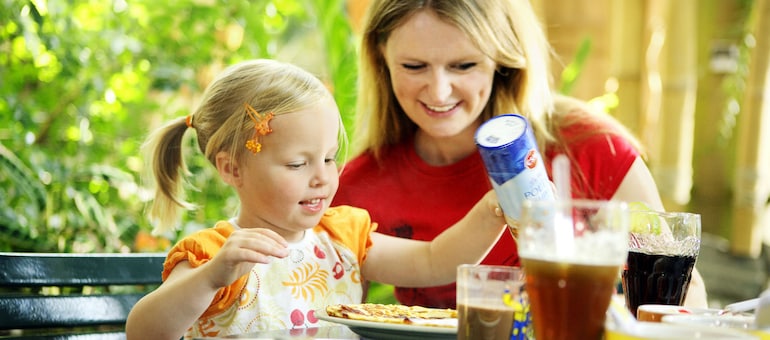 Pancakes
At Pancakes, we serve traditional, suprising and scrumptious sweet pancakes, to young and old alike! Our pancake menu is endless: from the classics such as an apple pancake with syrup, to seasonal delights such as a pancake topped with strawberries and, of course, children's pancakes that they can top themselves!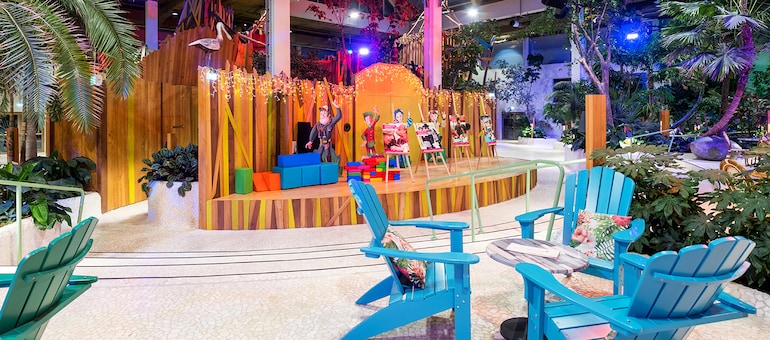 BALUBA Bar
If it has to be fast, then visit the BALUBA Bar. There you can try savoury and sweet snacks and even our youngest guests will be satisfied at the baby food station. The warm and cold selection at our bar with pizza, sandwiches and fresh Belgian waffles is sure to suit every taste.
Cottage Delivery Service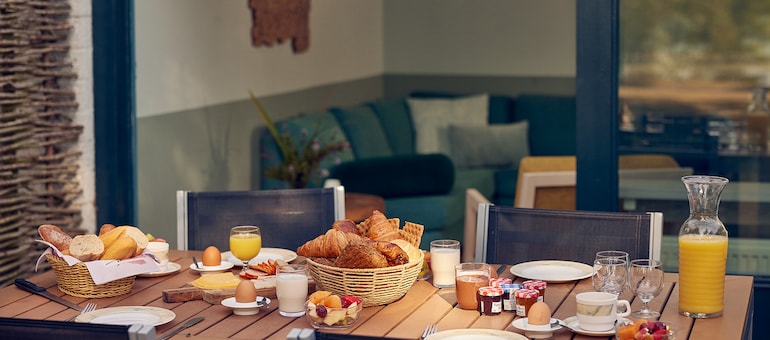 Breakfast Delivery
Want to enjoy a breakfast without having to leave your accommodation? Snuggle down and order a complete Lazy Breakfast with bread, sweet and savoury toppings, eggs and orange juice. Can be booked along with your accommodation or ordered separately at the supermarket.
Supermarket
Bakery
The bakery is the meeting point of traditional bakery products and French bread and pastries. You'll find oven-fresh rolls and bread, tasty croissants, and a variety of snacks and sandwiches, as well as delicious cakes and pies, fresh waffles, ice cream and coffee specialties.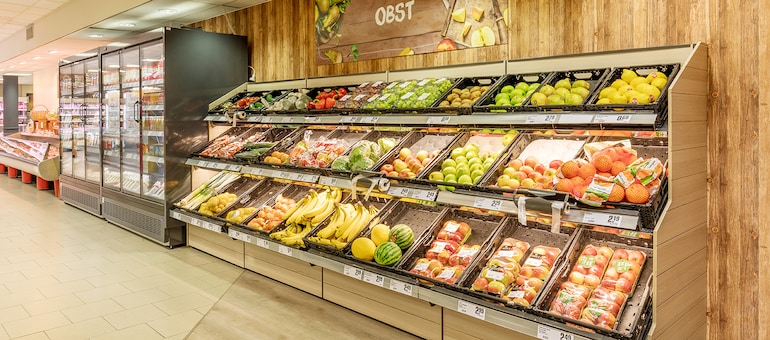 Supermarket
At the super market you will find everything you need: fruits and vegetables, fresh products, meats, canned food, biscuits ... It is open every day and is walking distance from your cottage.
Shops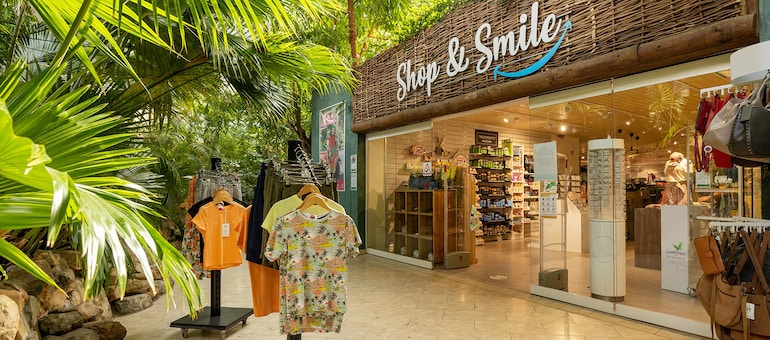 Shop & Smile
Shop & Smile offers a wide selection of clothing, cosmetics, toys and decorations. Discover major ready-to-wear brands and leave with a souvenir of your stay.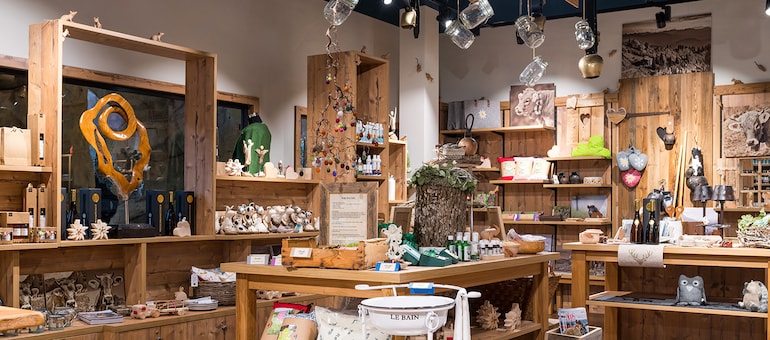 Allgäuer Lädle
Do you want to take home a piece of Allgäu? In our shop Allgäu Lädle, you will find a wide range of local products such as felt soap, pine wood products, fur shoes and much more. You can also inform yourself here at our tourist information about regional excursions in the Allgäu area.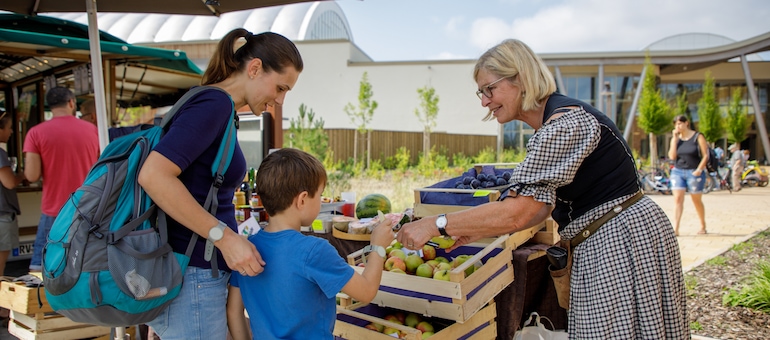 Market
A visit to the local market is always pleasant. But ... sometimes the market comes to you! In several parks, you'll find a small weekly market where local traders offer their products. Here you'll find goodies like organic cheese, regional honey, and artisanal candles.