New
: You can now
book 2 accommodations at once
! Perfect for bringing all your loved ones together while respecting everyone's desire.
LEARN MORE
Le Bois aux Daims
France, La Vienne, Poitiers
Park map
Le Bois aux Daims - dayguest
A day at Center Parcs
Spend a day at Center Parcs in Le Bois aux Daims and enjoy a wonderful experience in the hart of Vienne. With your family or friends, enjoy a wide range of indoor and outdoor activities to keep you entertained, regardless the weather.
The water in the Aqua Mundo, where you can swim and slide down the slides, is heated all year long.
In the animal park and the Children's Farm, you can observe many animals and learn more about them.
Indoor and outdoor playgrounds for children, such as the BALUBA in the Action Factory.
Sporting and spectacular activities: High Adventure Experience, archery, minigolf.
Playful and educational workshops: the "Wannabe" activities, bread making workshop, or Make your own Stuffed Animal.
The spa and treatments and massages of the Deep Nature® Spa.
A wide range of food and drinks for everyone all day long.
Do not miss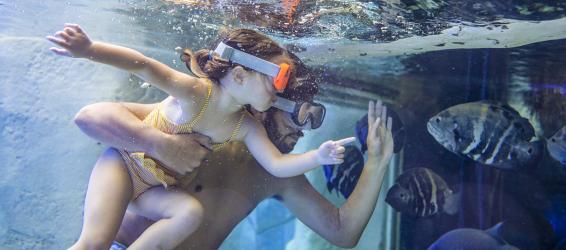 Aqua Mundo
In the Aqua Mundo, you can swim in both the indoor and outdoor pools. Go down the slides, enjoy the wild water rapids and let yourself be swept away by the waves in the wave pool. Splash around in the Water Playhouse with its cannons, fountains and slides. The little ones can discover the water in the complete safety in the Children's Pool. Discover the Cenote Pool and observe the fish in the aquarium, a unique experience in Le Bois aux Daims.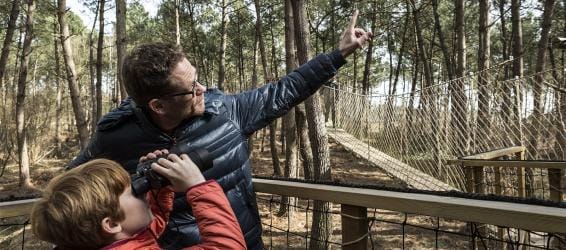 Animal park
The Animal park is full of surprises! Come for a walk and discover it yourself:
• If you climb up you can observe deer and wild boar.
• Magpies, storks, gees and many other animals! Do you know all the animals when you leave?
• Young and old can enjoy themselves along the nature walking paths.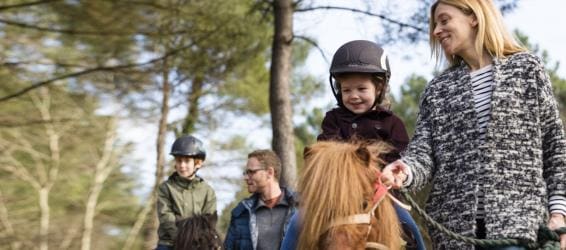 Activities for everyone
Enjoy a day in Le Bois aux Daims with a wide range of activities. Sportsmen and adventurers: try the obstacles of the High Adventure Experience. Take part in a game of paintball, minigolf or bowling. Let the children enjoy a pony ride and let them participate in the various fun and educational workshops.
Go on an Adventure Mission: Following animals tracks, experience a day as an Animal Keeper and discover the animals for a total immersion in the animal world.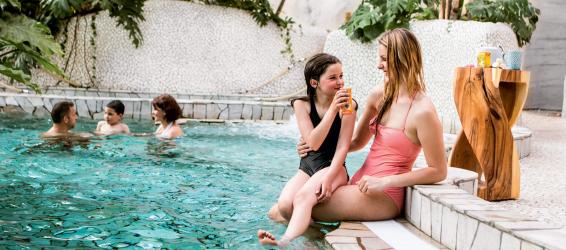 Spa Deep Nature®
Relax under the palm trees and tropical atmosphere of this beautiful relaxation area. Enjoy the balneoludic bath with water heated to over 30 degrees both inside and out. Cleanse your body during a visit to the hammams, saunas and salt cabin. Discover the many treatments and massages we offer.