New
: You can now
book 2 accommodations at once
! Perfect for bringing all your loved ones together while respecting everyone's desire.
LEARN MORE
+31 10 498 97 54

+31 10 498 97 54

Do you have a question ?

Our staff will be happy to help you

Monday - Friday: 09.00h - 21.00h
Saturday: 09.00h - 17.00h
Sunday: 10.00h - 17.00h

You can also consult our FAQ page
Erperheide - Restaurants & Shops
Discover our 4 cosy restaurants under the palm trees: you can choose from an extensive buffet, grill dishes, small snacks or the Grand Café. Do you want to cook yourself? Then you can visit our supermarket. You can also order a pizza, have breakfast delivered or go for the Table Cooking service! The little ones among us have been thought of: there are dishes specially adapted for them, baby food is available and there is a special play area.
Restaurants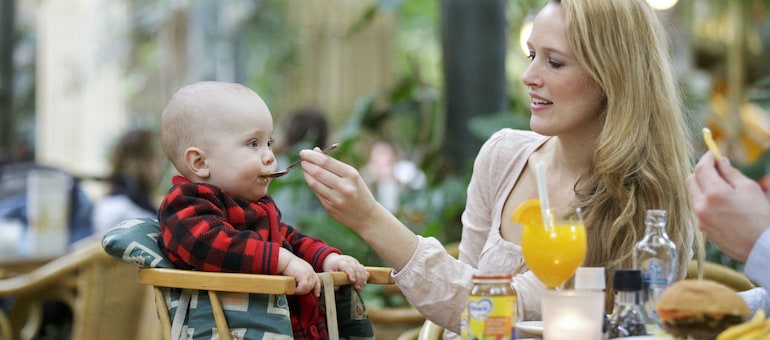 Baby Feeding Facilities
Baby Food Stations are located in all restaurants. Easy to spot, free to use and always close by, the Baby Food Stations provide free jars of baby food, a microwave and a bottle warmer. Enjoy a care-free holiday with your baby!
Evergreenz
Every day at Evergreenz, our chefs present an elaborate All You Can Eat buffet. A tasty salad, meat or fish dish, and a special children's buffet. In addition, Evergreenz also offers a full breakfast.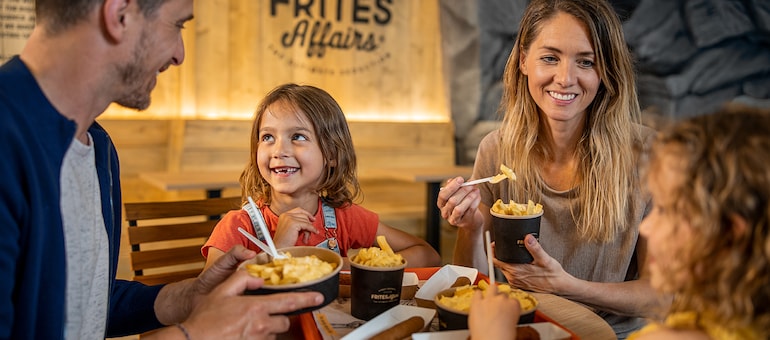 Frites Affairs
Frites Affairs is both naughty and nice! If you're finding the temptation for a tasty snack hard to resist, treat yourself to some irresistibly crunchy, skin-on fries. Add your own toppings or order one of our delicious loaded fries. We also have a wide range of gourmet hotdogs, snacks, and ice creams.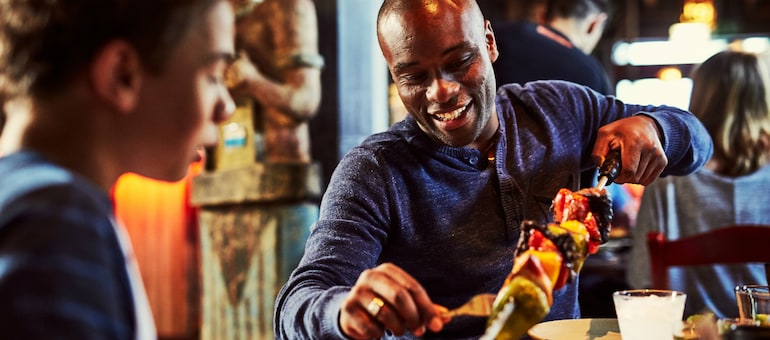 Fuego Adventure Grill
Flickering flames that lend a mysterious aura to the centuries-old murals. Take a seat at a table and imagine yourself to be in a temple of fire. Enjoy delicious fish and meat dishes, select one of our many tasty vegetarian specialties, or assemble your ideal hamburger in 5 simple steps.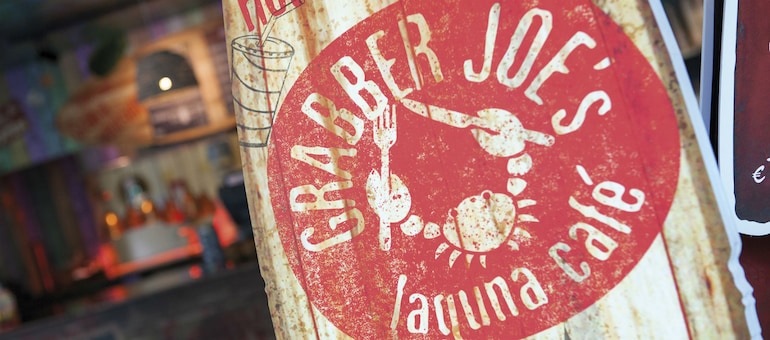 Grabber Joe's Laguna Café
In the lagoon in the Aqua Mundo you can savour delicious sandwiches, snacks, crusty paninis and scrumptious ice creams. Grabber Joe's is a place for young and old alike, to relax and recharge the batteries!
Grand Café
The decor of the Grand Café has an Out of Africa ambiance. Enjoy in a stunning environment a good cup of coffee or a glass of beer with a bitterbal (croquette) and a newspaper. Waiting for friends or family. Feel like enjoying a snack? You can choose from a variety of sandwiches, salads and hot dishes available on our menu.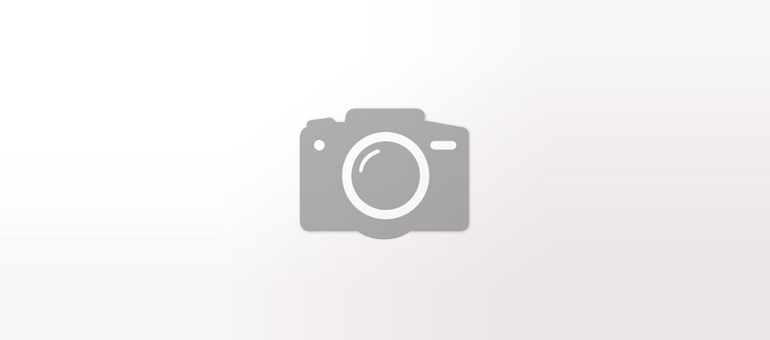 Baluba Café
Fancy something quick and easy? Come to Snacks! Spoil yourself with a hamburger, fries and a whole range of other snacks. And especially for the children, there is a kids box with a surprise! Let's not forget, we also have delicious curled twister fries and amazingly delicious milkshakes. Treat yourself to a delicious soft ice cream for dessert. After all, you're on holiday!
Cottage Delivery Service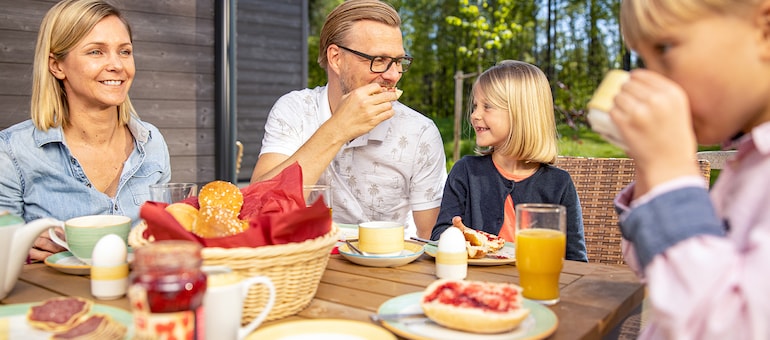 Breakfast Delivery
Want to enjoy a breakfast without having to leave your accommodation? Snuggle down and order a complete Lazy Breakfast with bread, sweet and savoury toppings, eggs and orange juice. Can be booked along with your accommodation or ordered separately at the supermarket.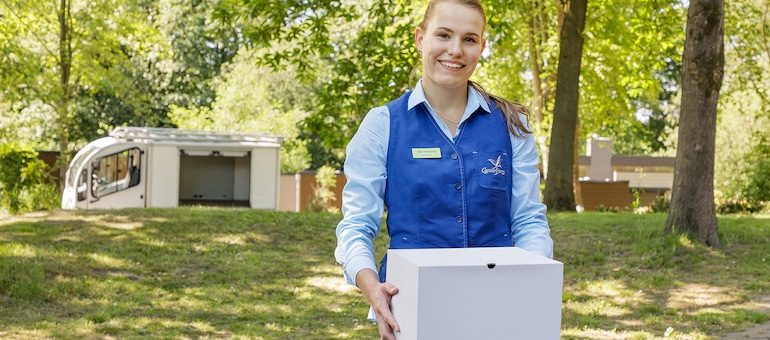 Grocery delivery service
Easily order your groceries, before and during the stay, online at the supermarket and have them delivered to your cottage. From a full breakfast, groceries and Table Cooking services.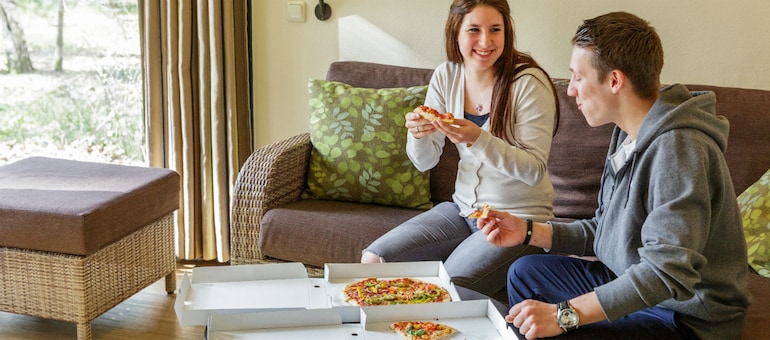 Pizza Takeaway
How about a cozy pizza dinner at your cottage? We offer a wide range of pizzas, from Margherita to Spicy Meat, or a tasty pasta salad.
Table-Top Cooking
Table cooking is like very special home cooking. Whether you choose gourmet food, stone plate or a Barbecue grill: we bring all the ingredients to your cottage, including all the necessary equipment.
Supermarket
Supermarket
At the supermarket you will find everything you need for your stay: fruits, vegetables, bread, pastries, fresh products, meats, canned food, biscuits. All types of food just a few steps from your cottage. At our supermarket, we work with "Too Good To Go". The leftover products are offered for a small fee in the "Too Good To Go" application. This way we all work together to fight food waste. Open every day.
Shops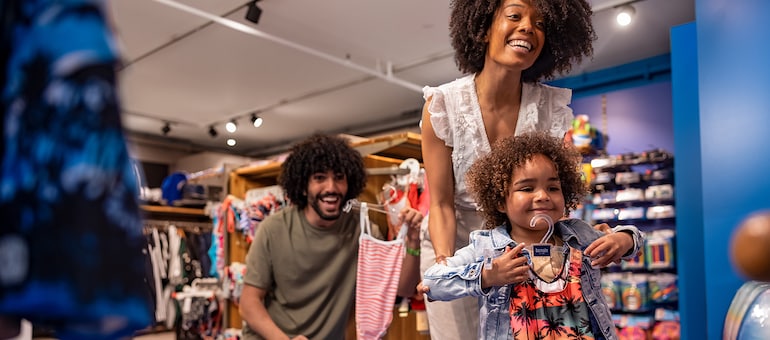 Shop & Smile: Aqua Beauty Fashion
You'll find the latest fashion, all the necessities for plenty of swimming fun and the finest beauty products at Shop & Smile: Aqua, Beauty, Fashion. Choose from a wide range of clothing, accessories, shoes, swimwear, make-up, body care products and bath bombs.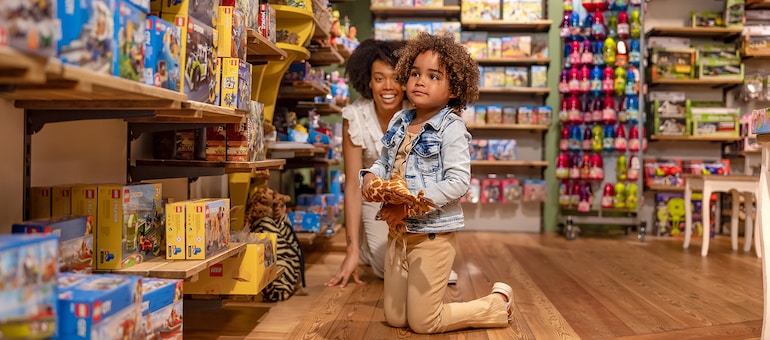 Shop & Smile: Home & Kids
All kinds of toys and the best home decoration can be found at Shop & Smile: Home & Kids. Choose from a wide range of dolls, toy cars, games, picture frames, candles and souvenirs.