Southern French luxury in Marina De Eemhof
Marina De Eemhof is the yacht basin of De Eemhof: a piece of French Riviera in The Netherlands. You use all facilities of the park and stay in a luxurious Waterfront Suite or Houseboat, directly adjoin the Eemmeer. While strolling along the boulevard in the morning, the first watersports lovers line up on the water. Flyboarding, windsurfing, sailing; the Eemmeer is very attractive! After a day on the water, you can lounge at the Eemhof Watersport & Beachclub or enjoy a meal at Brasserie Zuiderzoet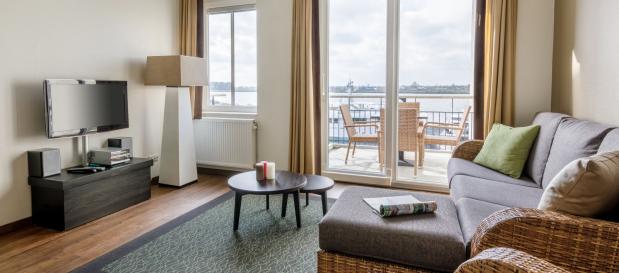 Waterfront Suite
Whether you are with a family of 4 or with a group of 12, the Waterfront Suites are delightfully spacious and luxurious. Like the Finnish sauna, the bubble bath and the VIP services: made-up beds, Streaming Wi-Fi and daily freshly baked pastries. Looking forward to enjoying breakfast on your balcony, with panoramic views over the Eemmeer? Book your Waterfront suite right away!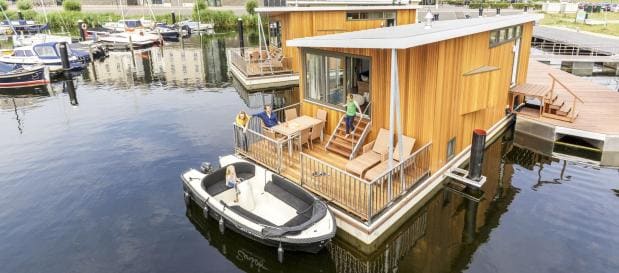 Boat house
Stay in a luxurious Boat house and experience your holiday just a bit a more special. Modern Interior design, a bubble bath and a private deck overlooking the Eemmeer. All that's left, is for you to light the table barbecue and... enjoy! Also profit from the included VIP services, such as daily freshly baked pastries, made-up beds on the arrival day and Streaming Wi-Fi. How's that for undwinding?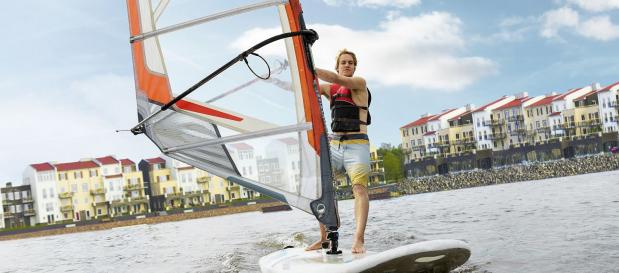 Activities in Marina De Eemhof
Beach lovers and watersports-enthusiasts can indulge at Marina De Eemhof. Play beach volleyball or try out one of the watersports: flyboarding, stand up paddling, wakeboarding, sailing or windsurfing. Would you rather spend the whole day on the water? Hire a boat, dinghy or canoe and explore the area. Laze a bit during a delicious dinner in Brasserie Zuiderzoet, overlooking the Eemmeer.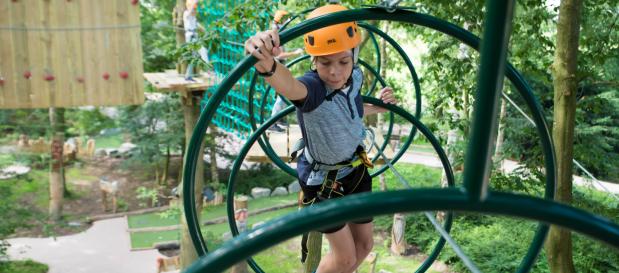 New activities in De Eemhof
There are plenty of new things to experience in De Eemhof. What a feeling if you climb in the treetops during the High Adventure Experience. Exciting right?! Just like the spectacular Escape Room, where you have to work together to get out. Did you escape? Compete with your family during Adventure Golf.
19 available accommodations
Sort by:
Sort by:
Sort by:
Popularity
Popularity
Price ascending
Descending price
Number of bedroom
*Book at least 2 months in advance and receive a 20% discount for families or groups with at least one child under 13 or one person 55 years of age or older. The Family or 55+ discount is not valid during school vacations and extended weekends.

On bookings for Villages Nature® Paris, you receive a maximum 10% Family or 55+ Discount, if you are travelling in the company of someone over 55 or with at least one child under 6. The booking must be made at least 60 days before arrival.
Displaying parks closest to your location first