Cycle Center: renting bicycles and more
Explore our holiday parks by bicycle and enjoy the beauty of nature. You won't even need to bring your own bike. Our Cycle Centre has a wide range of bikes, which will fit everyone from adults to kids, go-karts, family bikes and even more. Just add a cycling package to your own personalized booking, via My Center Parcs, the app or on site at the Cycle Center.
Everything on wheels
Bicycle fun starts at the Cycle Center. You can rent (almost) anything on wheels at this rental center:


Gazelle and Derby bicycles; Quality bicycles, among others by the brands Gazelle and Derby.

Children's bikes and seats; In all sizes and for all ages.

Mountain bikes; For adventurous rides through forest.

Family bike; A four wheeler! – great fun for an hour or two.

BMX; Zigzagging crossing through the forest.

Go-karts; Watch the children (safely) sitting smiling behind the wheel.

Carts; For little children and your shopping bags.

Wheelchairs; With freely accessible facilities for wheelchair users.

Buggies; No place left in the car? No problem!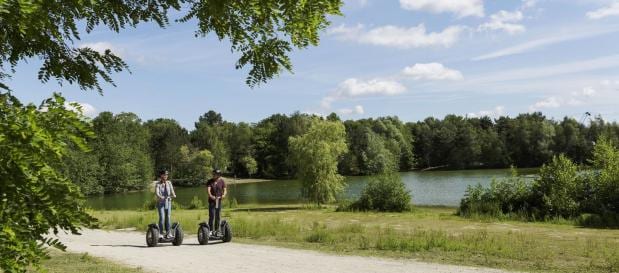 E-bikes and more – sustainable and fun!
Needing a helping hand? E-move is fun, easy and good for the environment. Explore our holiday parks silently in a sustainable way:


E-bikes - Still great sport, but thanks to an electric motor, just a bit faster.

E-cars- Shopping, beach bags, grandma ... everything fits!

Segway or Ninebot - First, find your balance and then.. off you go!

E-step- Allows teenagers to quickly move through the park. Cool!

E-scooter - Explore the surroundings in a sustainable way!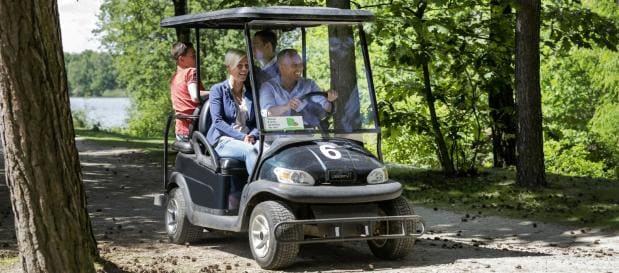 Rental information
Feel free to leave your bike at home. Rent a bicycle or e-car in advance. It will be ready and awaiting for your arrival. Want to know more about the rental of all types of transport?


Rent a bicycle or e-car while booking your cottage. Please note: there is a limited number available for reservation in advance;
You can rent a bicycle or e-car afterwards through your own booking page in My Center Parcs or in the Center Parcs app. Please note: there is a limited number available for reservation in advance;
Look at the possibilities for rental a bicycle or other types of transport in the Cycle Center when you arrive in the park;
Please note, a deposit has to be paid for some rentals. For more information, please contact the park.
423 results
Sort by:
Sort by:
Sort by:
Sort by:
Popularity
Popularity
Price ascending
Descending price
Number of bedroom
Adventure Cottage
An adventurous stay full of exciting discoveries
A themed interior, where every room takes you on a trip around the world
Dedicated (interactive) features that truly give you the feeling of being on an expedition.
Displaying parks closest to your location first